From J. T., Pewsey, Wiltshire.
Dear James, the stair rope is now installed... and looks beautiful and works brilliantly. Many thanks indeed for all your help with this.
From C. D. in Market Harborough, Leicestershire.
Hi James - The stair rope arrived and we've installed it. It looks excellent and your care in taking our order was time well spent as it was easy to install and looks perfect. Thank you for your time and patience, we can't wait to show it off!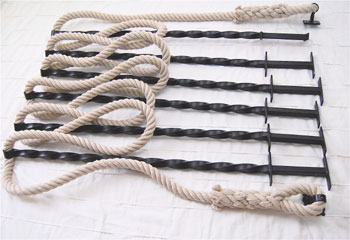 Custom made wrought iron railings with 32mm synthetic hemp rope and eyespliced ends.
From R. H. in Kent
Hi James - Received my parcel, and have put up the rope. In the words of my eighteen year old...
"Wow, that looks really cool"
many thanks for an excellent product and service.
From D. F. in MA, USA
Dear Mr. Watson
The rope has arrived and it looks great installed.
It was good doing business with you.
From S. and H. in Oxon
Dear James,
We are delighted, thank you so much for all your measuring and installation advice.
They couldn't be any better!
Many Thanks
From D. S. in Reading, Berks
Hello James,
It arrived safely this morning...
It looks better than I had expected and it's going to fit in perfectly with the new decoration.
Many thanks for a superb product.
From A. and L. P. in Huntingdon, Cambs.
I'm just writing very belatedly to say thank you very much indeed for your prompt and efficient handling of our urgent stair rope order last month.
It arrived on time, as you promised, and we were delighted with both the product and your service too...
Kind regards and many thanks,
From J. and R. D. in Bristol.
Hey, it's FAB. Looks great, and functions really well. We're delighted with your work.
Many thanks,

From S. & D. P., Shropshire
Dear James - Just a quick note to let you know that we have received the parcel and are very pleased with the stair rope. Thank you so much for your quick response to our order.
From J. C., E.Sussex
Dear James - Just a quick note to thank you for the stair rope which arrived yesterday. It really looks far better in the flesh that on line and I'm sure will look truly sensational when installed. Thanks again for such a prompt service.
From R. M., Taunton
Dear James - Thank you very much for our lovely stair rope. It arrived on Saturday and we will be putting it up this weekend. We were thrilled with the look and quality of it. Your job must be very satisfying producing such excellent work. I would not hesitate to recommend your work to others. It was good to receive it before it was expected as well. Many thanks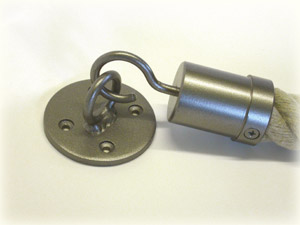 Custom made wrought iron barrier rope fitting.
From C. C., Oxon
Thanks very much. The parcel arrived and we have put the stair rope up and it looks really good. Thanks for being so prompt and reliable. regards
From K. M., Bideford, Devon
Dear James - The stair ropes have arrived safely and are installed and look great. I am really pleased with them. Thank you very much. Best wishes, K
From A. A., RJ B C S Ltd. Dover, Kent
James, Many thanks for the prompt and efficient service.
From D. T., Kent
...both ropes are now in place. They have transformed the stairwells, much more user friendly. Such an outstanding effect. My thanks to yourself and everyone concerned. "Million" times better than a wooden bog standard bannister, Which I was under pressure to install...
From Mrs. B., London
It has arrived. great service thanks
From L. L., W12 London
Hi James - Just wanted to say a huge THANK YOU for our lovely stair ropes that arrived safely today. D. has installed them this evening and they look FANTASTIC. Thanks for all your help, advice and professional service throughout. I would/will highly recommend you and your business. Thanks again.
From R. C., Hampshire
Dear James - Just a short note to say, we have received our new stair rope as promised and to thank you for such a beautifully manufactured product and for the superb service. Best regards,
From A. F., Essex
Hi James - Recieved the rope complete with brackets ,thanks its not up yet but hopefully in the next day or two... Thank-you for your good customer care.
From T. C., Chesterfield, Derbyshire
Thank you so much, James - we were over in the UK earlier than planned but parcel arrived 2 days before we left. It's now 'in situ' and we are very pleased with it. Thank you again.
From J. A., London
Dear James - Just to say the stair rope looks great, so thank you very much. I also appreciate you doing it so quickly! Best wishes
From A. & S. M., Haslemere, Surrey
Hello James - We received your Stair Rope as you had said we would and today it was fitted. I just wanted to let you know how delighted we are with it. It is everything we expected and sits very well in out cottage (a 16th Century job). As an ex-sailor (yachtsman that is) I can appreciate the skill and workmanship that has gone into the finished product and it looks brilliant. Thank you very much.
From P. M., East Sussex
Thanks for the ropes - up and looking great!
From C. H. in Hurst, Berkshire.
Thank you James. You have done a wonderful job. I just hope our installation skills do the handrails justice! Many thanks for all your help and patience - I will be recommending you to everyone who admires them.
Kind regards

From S. C. in Partington, Manchester.
Thanks for all your help, so professional and efficient.
From P. C. in Birmingham.
Dear James,
I recieved my parcel yesterday and wanted to thank you.
I am delighted with my new purchase and will certainly recommend you to my friends and family!
Many thanks again,
From R. R. in Brighton.
recieved. many thanks. Looks great - exactly what I wanted.
Might need another one, so will be in touch.
thanks

From A. P. in Norwich.
Just a line to say thankyou, the ropes are up,we both feel safer on the stairs and are very happy with the quality of your product and ease of installation.
We will recommend you to all our friends and colleagues
best wishes

From P. S. in Saltash, Cornwall.
Thanks James. I have now fitted it to the wall. It improves and complements the staircase.
One very satisfied customer.
Regards Thanks again.
From D. P. in Bihops Stortford, Herts.
James
Thank you very much for your speedy service - very efficient and by the way your web site is the best, clear, concise, precise and to the point.
From L. P. in Ryarsh, Kent.
Received on Thursday. Fit perfectly and look great.
Many thanks
From C. W. in Daventry, Northants.
Hi James
I received the stair rope when I got back to work today. It looks fantastic! We shall definitely be in touch to order a second stair rope once the next phase of decorating is done.
Just perfect!
From A. M. in Ballymena, Co. Antrim.
Just had stair rope installed.Really good job.Very pleased.
Thanks,
From D. D. in Tring, Herts.
Hi James
Stair Rope received, and installed and looks terrific.
many thanks
best wishes
From A. in Leicester.
Thank you James I have received it and it looks great!
All the best
From J. P. in Langport, Somerset.
...the stair ropes are fantastic, my boss was very envious.
Thank you for making them so quickly, a fantastic service. Best wishes
From M. R. in Stanwick, Northants.
Dear James, Thank you for the great stair rope.
We are delighted with it and would have no doubt about recommending you to our friends.Regards
From D. P. in Rochester, Kent.
James, The rope is on the wall and looks absolutely fantastic!
Very quick and efficient, I will recommend you to anyone that asks where it came from!
From S. in Cumbria.
...a quick thank you for sending my order through so quickly.
Much appreciated.
From L. C. in Manchester.
James, Stair rope received and looks great. Thanks
From J. L. in Hastingwood, Essex.
Hello James, I have received the stair ropes and bell pull, I am very pleased with them.
They are lovely. Thank you.
From C. D. in Redhill, Surrey.
Hi James, Just to let you know, the rope arrived today and looks great!
Many thanks
From S. H. in Trowbridge, Wiltshire.
Hi James,
Received stair rope today thank you, it's great!
From J. T. in Gorleston, Norfolk.
HELLO JAMES.JUST TO LET YOU KNOW THE STAIR ROPE ARRIVED TODAY.VERY VERY PLEASED.MANY THANKS
From S. W. in Maidenhead, Berkshire.
Hi James - received parcel last week. Rope looks fab - may well order another one!
From A. W. in London.
IT'S FANTASTIC!!! I'm thrilled to bits with it and I've told several people who've already asked over the phone where I got it from!!
Thank you very much for a great service and I have to say very reasonable in comparison with other makers on-line.
Well done and many thanks!
From S. H. in Wigton, Cumbria.
Hi, Just a quick thank you for sending my order through so quickly. Much appreciated ! Haven't put rope up yet but it's going to look lovely
Thanks again
From T. N. in Runcorn, Cheshire.
Hi James
Rope received and up on the wall looking lovely.
Thanks
Back to recent Stair ropes customers