Sitemap for StairRopes.com
STAIR ROPES
Stair Ropes.com (UK) make stair ropes, bannister rope, handrails and barrier ropes. These are individually assembled, with fittings attached, screws and rawl plugs included and manrope knots or sailors' eye-splices skilfully made by James Watson of Stonk Knots. Examples of stair ropes in situ, ropes, fittings and knot work.
ROPES
General information about ropes and cordage. Close up images and details about the range of high quality sourced ropes by Stairropes.com which are used to make stair ropes, rope bannisters and hand rails.
natural ropes for stair ropes
A description of the types of natural ropes used for stair ropes, bannisters and hand rails, such as hemp and cotton.
synthetic ropes for stair ropes
Details and discussion of merits of synthetic fibre ropes used for stair ropes, bannisters and hand rails, such as synthetic hemps and other 'natural' look-a-likes - including the high quality p.o.s.h. polyester rope we use for stair ropes. Also on offer is a colourful range of green, black, red and navy) in polyester, nylon and high grade p.o.s.h. fibre ropes.
speciality ropes for stair ropes and barrier ropes
Our hand twisted speciality ropes incorporate smaller diameters of rope wound around a rope core to produce a multi coloured/strand rope. These are available with natural and synthetic mixes and are made using a traditional technique known as "worming".
installation notes for stair ropes
The suitability of different types of ropes for interior and exterior environments.
Our hand made wound ropes need special care during fitting. Some advice on how to ensure the best installation of a speciality stair rope or bannister rope.
FITTINGS
Which fittings to choose for your stair rope, handrail or rope bannister - brass, stainless steel and wrought iron brackets come in various designs and finishes for ropes of diameters between 24mm and 32mm. All our stair rope brackets are especially designed and built to our own specifications to provide strong and attractive supports for StairRopes.com rope hand rails and bannister ropes.
brass plated stair rope brackets
Premium quality U.K. manufactured round base brackets cast in solid English brass supplied unlacquered and polished.
stainless steel stair rope brackets
High specification marine grade 316 stainless steel brackets for stair ropes and handrails, extremely resistant to corrosion and staining and especially suitable for outdoor applications. Available in brushed satin or mirror chrome finish.
standard wrought iron stair rope brackets
Heavy duty, locally hand-made wrought iron stair rope brackets for 24mm and 32mm ropes in a choice of heights, base plates, stem designs and finishes.
special wrought iron stair rope brackets
Our special wrought iron stair rope brackets are made to order and can include a combination of paint finishes, rustic finishes, base plate designs and alternative stem designs: square or twisted stem.
installation notes for stair rope fittings
Information and practical guidelines on installation of stair rope fittings. Details of types and sizes of screws and rawl plugs provided with each stair rope. Options for fitting rope hand rail brackets and using retaining screws (or locking pins).
custom built wrought iron stair rope brackets
Wrought iron custom design work and commissions; we can adapt base plates of the wrought iron stair rope fittings to suit individual requirements.
KNOTS
How to securely end the stair rope, bannister rope or handrail, using a traditional Manrope knot with optional star washers. Options for two ply or three ply manrope knots in 24mm or 32mm diameter rope.
alternative end knot
Where there is limited space, a stair rope, bannister rope or hand rail may be finished by using an Eye splice instead of the traditional Manrope knot.
decorative endings
We offer a range of decorative rope endings such as Crown plaits, Matthew Walker knot tassels and Turk's Head ball and plain tassels with combed or plaited ends.
installation notes for stair rope knots or splice endings
Practical information on measuring up for a stair rope to include either knots or splices at the ends, with advice on siting stair ropes or hand rails in particular spaces and situations. Guidelines for installation using retaining screws (locking pins) and options to include decorative star washers at the base of the manrope knots.
MEASURE
Information and advice on measuring up for a stair rope, rope handrail or banister rope and determining the number and placement of fittings for your particular staircase or hallway.
installing a stair rope
Some general guidelines on securing a stair rope or rope hand rail to the wall. Details of the types and size of screws and rawl plugs provided with each stair rope.
stair ropes and corners
Discusses the options for fitting a stair rope, bannister rope or handrail around a corner.
an example stair rope
Measurements and costings for a typical stair rope order.
ORDER
Details of prices, payment options and delivery times for stair ropes, rope banisters, handrails and barrier ropes.
stair ropes prices
Complete price list for ordering a stair rope, with individual costs of ropes, fittings, knots and carriage.
BARRIERS
For non weight bearing applications we make barrier ropes to measure using traditional sailmakers palm and needle whippings to secure the rope ends. There is a choice of barrier rope fittings (brass or chrome) which are fitted to order.
F.A.Q.s
QUESTIONS AND FEEDBACK - STAIR ROPES
Answers to some questions which often come up when ordering a stair rope, hand rail, bannister rope or barrier rope - such as suitability of ropes and fittings for interior or exterior environments, information on the different options for finishing off the stair rope with knots or splices, measuring a stair case and installation of the stair rope, delivery schedules, payment options etc.
CUSTOMERS
Here you can read regularly updated feedback sent from satisfied customers, and see a selection of images of our stair ropes, bannister rope, rope handrails and bannister ropes in situ.
STONK KNOTS
Extensive range of other decorative rope products from Stonk Knots with examples of rope towel rails, light pulls and unusual curtain tiebacks. Also, a gallery of pages which feature more 'one off' projects for both interior and exterior applications, such as a hammock, swings, bell ropes, knotboards, table mats and custom designs for larger rope installations.
Contact Stair Ropes.com
For more advice or information about our bannister ropes and hand rails, and to order a stair rope, you can contact James Watson directly at Stair Ropes.com.
Full contact details for Stair Ropes. com
Contact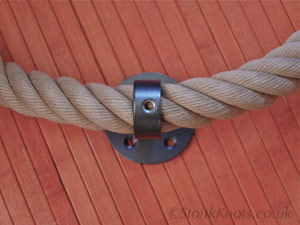 Stair rope in 32mm POSH
with wrought iron bracket in gunmetal paint finish.
---
---
All content on this website is © (copyright) 1994-2022 - StairRopes.com and Stonk Knots, unless otherwise stated.

Web site design and photography by Witches of The Web