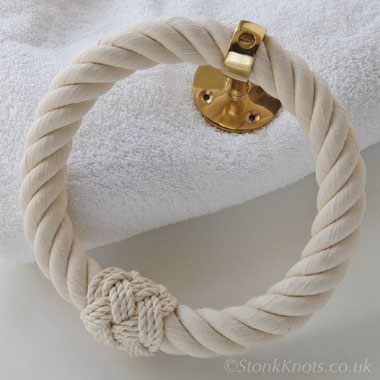 Rope Towel Ring
This towel ring was made using 24mm unbleached cotton rope around a solid brass fitting and decorated with a Sailor's Turks Head weave in cotton cord.
Our 4-strand unbleached cotton rope is a creamy-white colour, and very soft to the touch.
To make a rope towel ring, the ends of the rope are carefully stitched and bound using a whipping. A decorative Turk's head knot is woven over this in a matching or contrasting colour, hemp or cotton cord to cover the join. This tightly worked weave also brings the join of the rope ends up to the same stiffness as the rest of the ring.
This configuration is the tightest circle which can be made with a 24mm rope without distortion, and produces a round rope towel holder measuring approximately 18cm (7 inches) in diameter.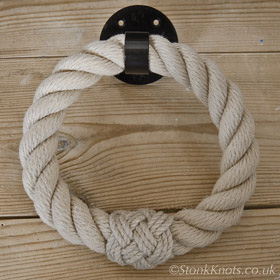 A 32mm diameter pale coloured spun polyester fibre rope (p.o.s.h.) was used to make the Rope towel ring with a wrought iron satin black fitting (round base plate) shown here. This 4-strand p.o.s.h. rope is the closest synthetic equivalent to natural hemp. Used extensively as a non-natural alternative to hemp on rigging for classic yachts, it is incredibly long-lasting in all weathers.
The natural fibre hemp rope we supply is a very hard laid (tightly twisted) rope, 4 strand with a core: it holds its shape really well and doesn't scuff up easily. As it is a natural material, it will vary in colour from coil to coil and also has a characteristic hay-like odour. A rope towel rail made of 24mm hemp with an ornate wrought iron fitting is shown below.
Our hand made rope towel rings can be made using a variety of different rope types and colours, and a choice of brackets. The images below show black p.o.s.h. rope ring with cotton cord Turk's head whipping and mirror finish fitting, a natural hemp rope ring with hemp Turk's head whipping and wrought iron ornate base fitting, and a navy nylon rope ring with cotton Turk's head whipping and satin finish fitting. For images and details on all these ropes see our Ropes page. Standard pricing for our rope towel rings is set out below. For custom options, such as 32mm rope and modified or special finishes for wrought iron brackets, please contact us.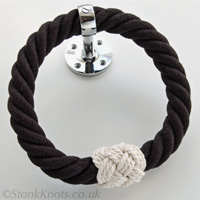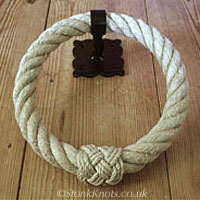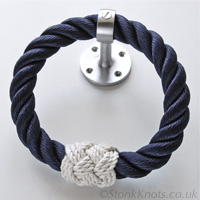 PRICES
24mm Rope towel ring with Turk's Head whipping
With solid brass fitting: £60
With stainless steel fitting (mirror or satin finish): £62
With standard wrought iron fitting: £72
Rope Towel Rail
An original rope towel rail has been made from natural polished hemp using wrought iron fittings, and features a chunky two-ply manrope knot at each end.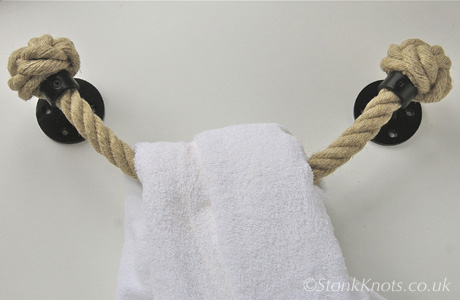 The Manrope knot is a type of stopper knot which is tied with the four unlaid strands of the same rope. This attractive knot provides a very secure and durable ending for a rope and was traditionally tied in to the end of a rope hand rail, or "manrope" on ships.
A straight towel rail is essentially a short rope handrail and comes in a standard length of 600mm (24 inches) including knots or splice ends, although we can make to measure if you have a particular space for it. For other custom options, costings for ropes, fittings and knots can be seen on our stair ropes price list.
A decorative eyesplice as seen on the towel rail below is another way to secure the ends of a rope. These rope ends are unlaid and the strands are skilfully tucked back along the lay. At the centre of the rail a decorative Turks Head whipping is woven to neatly cover the rope ends. All our knots and splices used for stair ropes can be seen on the Knots page.
Solid brass and marine grade stainless steel fittings used on our rope towel rails are the same heavy duty type we provide for stair ropes and hand rails, and have been especially manufactured to our own design - made of one solid piece with four points of attachment. The stainless steel fitting is available in a mirror or satin finish.
Our custom made wrought iron brackets are forged locally to order and available in both standard and bespoke finishes and/or base plates. For detailed images and information on all our fittings for ropes, see our Fittings page.

PRICES
24mm Rope towel rail with manrope knot ends
With solid brass fittings: £94
With stainless steel fittings (mirror or satin finish): £102
With standard wrought iron fittings: £114
24mm Rope towel rail with eyesplice ends
With solid brass fittings: £117
With stainless steel fittings (mirror or satin finish): £125
With standard wrought iron fittings: £137
See our order page for a complete price list and delivery information on the Stonk Knots rope product range.
ROPE TOWEL HOLDERS: CHOICE OF MATERIALS
Rope Ring or Rail in 24mm cotton, hemp, green p.o.s.h. and navy nylon. For other rope colours and sizes, please contact us.
Turk's Head whipping in hemp, cotton or matt buff polyester cord (rope ring and spliced rail).
Rope Towel Rail ending in manrope knots or eye splices (with Turk's head decorative whipping).
Solid brass, stainless steel (in mirror or satin finish) or wrought iron fittings.
Diameter of Rope Towel Ring : 17cm (8 inches).
Standard Length of Rope Towel Rail : approx 60cm (24 inches), including knot/splice ends.
>> Top <<