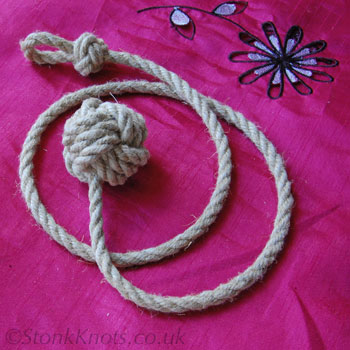 Monkey Fist Pull
Available in natural cotton or hemp, or black nylon rope, the monkey fist light pull comes at a standard length of 90cm (36 inches) or can be supplied at a length to suit.
The Monkey's Fist knot is formed by links in three directions which are represented as interlocking circles.
Hand made from a single length of rope, the initial pattern is set, then followed and worked around in the traditional way. The skill lies in gradually and neatly pulling the knot together (using a sailor's fid) to make a tight and evenly shaped ball with no distortion.
When tied in this way, using a good hard laid rope, it holds its own shape nicely without a core. The loop end is neatly spliced and finished with a miniature decorative Manrope knot.
A Monkey's Fist is commonly worked around a stone, lead or glass ball and used at the end of a boat's heaving line as a weight to carry the rope forward when it is cast. For our purposes, it is a very versatile knot, and we have used it in many of our rope products for interiors such as curtain tiebacks and door handles.
The image above shows a Monkey Fist lightpull in 8mm hemp rope, and below, left to right: natural fibre unbleached cotton and black nylon ropes.
Hemp and cotton ropes are made from natural materials, so different coils may vary slightly in colour, thickness or texture. The hemp also has a characteristic hay-like odour; if this might be a concern, please ask for a sample of rope first. For more information on the quality and type of ropes we use see our Stair ropes Ropes page.
PRICE
Monkey Fist lightpull in hemp, cotton or black nylon.
Standard length: 90cm (36 inches).
£19 each
Star Knot Pull
Our Star knot tassel light pull is made from six strands of mixed natural fibre cords and comes at a standard length of 90cm (36 inches).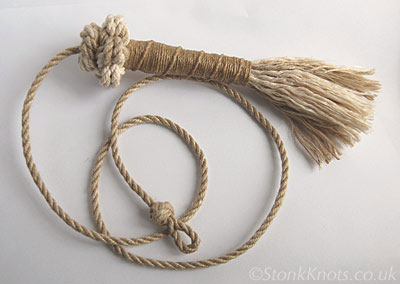 The Star Knot is a distinguished knot; beautiful, unique, time consuming and difficult to get looking good. This version uses three strands each of 4mm cotton and hemp. The Star knot tassel lightpull is finished in flax cord with a spiral whipping known as a grapevine service, and has a neatly combed tassel end.
The six strands which make up the star knot are seized together and started by making round turns in one strand after another, each one being led around the previously worked strand.
The star knot tassel may be ordered at custom lengths. Our design was adapted for a special commission, using 6mm diameter hemp and cotton cords to make an elegant curtain tie-back.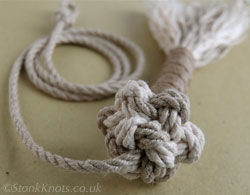 PRICE
Star Knot lightpull in cotton, hemp or hemp/cotton mix.
Standard length: 90cm (36 inches).
£49 each
Barrel Knot Pulls
These Barrel Knot lightpulls come in two varieties; a grip-type with decorative manrope knot at the spliced handle end, or a simple combed tassel ending. Both designs are available in 8mm natural fibre cotton or hemp rope, or black nylon.
A curtain-tieback made from the same rope that also uses the barrel knot as its design is featured on the tie-backs page in our rope products section.
PRICE
Barrel Knot grip or tassel end lightpull in hemp, cotton or black nylon.
Standard length: 90cm (36 inches).
£19 each
Crown Plait Pull
The crown plait light pull is 90cm long and is made using 8mm diameter unbleached cotton rope. It is also available in hemp or black nylon in the same diameter.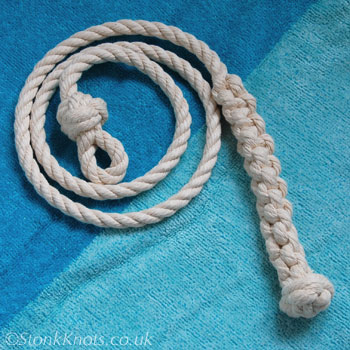 A crown plait is made by unlaying the strands of the base rope and building crown knots on top of each other. The continuous crown braid is then finished with a miniature manrope knot, measuring approximately 15mm in diameter.
Decorative rope pulls can be used for all sorts of things, from window blinds and dinner gongs, to bells, unusual fancy handles and cushion decorations. For more knotty ideas, see the Gallery.
PRICE
Crown Knot lightpull
in hemp, cotton or black nylon.
Standard length: 90cm (36 inches).
£19 each
See our order page for a complete price list and delivery information on the Stonk Knots rope product range.