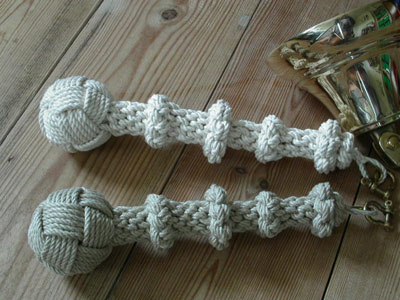 Bell Ropes
There is a long tradition of these showpieces of knotting skills, with many hours of long voyages spent on the art. Interestingly, the Bell Rope is one of the few "ropes" on a ship (others being referred to by specific names eg. sheets, hawsers, lines, stays).
These bell ropes were constructed using ornate combinations of multistrand sennits and knots with either a sphere or a tassel at the bottom.
Apart from the skill and patience needed to make one of these, the quality of the cord is paramount - a hard laid cord, such as the long fibre hemp used here, is best as it does not distort when worked tight.
The two bell ropes shown were made using long fibre 3mm hemp cord and 3mm cotton cord, and measured approximately twelve inches (30cm).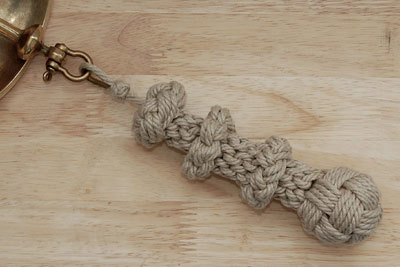 The knots in these ball end bell ropes are: (bottom to top, as worked) A six strand turks head woven around a wooden ball, double diamond knot, star knot, double diamond knot and a star knot crowned with a double crown or rose knot.
The single bell pull shown is a shorter version and is constructed from 4mm long fibre hemp cord. In these examples a crown sennit is used throughout.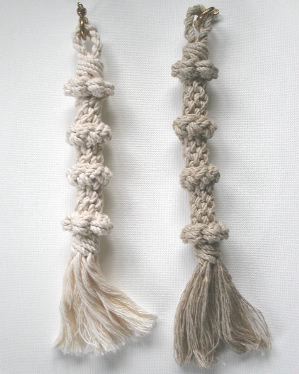 Each of these tassle end bell ropes were made using six strands of long fibre 4mm hemp or cotton cord and, unlike the ball end bell pulls, were started from the top and worked down to the tassle.
The knots which are tied between a crown sennit pattern are: (top to bottom, as worked) A matthew walker knot, star knot, two double diamond knots, star knot, matthew walker knot and tassle.
The large bell rope below measures twenty one inches (53cm) and was made using a core of 24mm hemp.
The ball end knot at the bottom is a manrope three ply knot tied from the unlaid strands of the hemp and followed through three times.

A star washer sits between this and the first of four small footrope knots, each tied through the lay of the 24mm hemp rope using 4mm hemp cord.
A neatly worked spiral whipping - known as a grapevine service - in flax twine covers the rope core between the third and fourth footrope knots. Using the same flax twine, a coxcombe service decorates the eye loop at the very top.
A ship's bell rope would often be covered entirely with varnish or coloured paint, as protection against the harsh and salty environment at sea.
Traditionally made ships' bell ropes are a pleasure to look at in all their knotted glory and as contemporary decorative artefacts they can be enjoyed by landlubbers too! They make unusual accessories for the home - for doorbells, dinner bells, or even purely for display. A hand knotted ship's bell pull will complement a nautical themed living space admirably.
This type of intricate knotwork is very time consuming to make, and may be purchased as a special order; each bell pull is individually designed to suit. For more information or to order a special, please contact us.