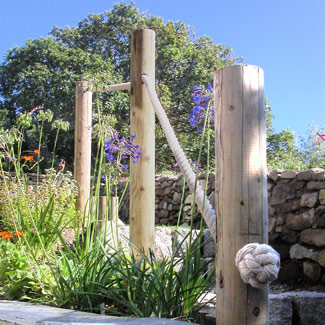 Garden ropes
The longest lasting ropes for outside use are made from high grade synthetic fibres, such as the spun polyester p.o.s.h ropes which also incorporate an enhanced u.v inhibitor.
This 32mm p.o.s.h. (pale beige) garden rope was insalled as a decorative hand rail for a set of stone steps in a Cornish garden, and should have many years of use.
The synthetic p.o.s.h. is a medium laid, four strand, smooth textured rope. Available in two shades of beige, it is the closest imitation to hemp, and in a humid, outdoor environment will easily outlast it. Many people do still prefer to have natural ropes such as hemp or manila in the garden - they make handsome rope surrounds and borders for an outdoor setting, but will rot out much sooner than their high grade synthetic equivalents.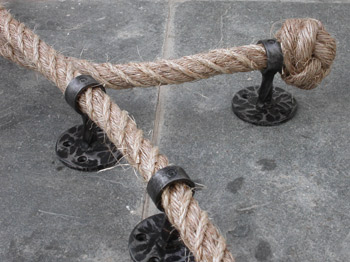 Not every synthetic fibre rope is ideally suited for a long and attractive life outside; nylon tends to become brittle and harsh after a while, most coloured ropes fade in sunlight, and some low quality fibre ropes disintegrate very quickly.
This manila rope was provided with a set of wrought iron fittings in a hammered finish. Using a traditional sailor's technique known as "worming", three lengths of 7mm manila cord were wound around a 24mm manila rope core. For more information on this, and to see the ropes we use for hand rails, see our Stair ropes page on ropes.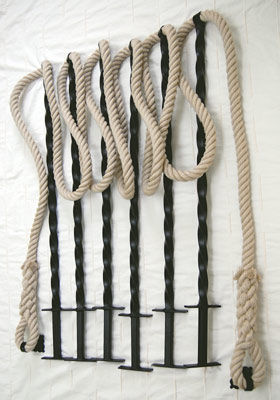 Shown here is a garden rope made from 30mm three strand synthetic hemp with Eye spliced ends, supplied as a hand rail for a garden walkway, with custom made wrought iron railings and end fittings. You can view images of our locally made wrought iron fittings on our stair ropes and rope hand rails site.
Below - constructed using four separate lengths of manila, three 6mm cords were twisted by hand along the lay of the manila 24mm rope core (a technique known as worming, see above), and finished with manrope knots made from the individual cords. The coiled rope was made as a decorative garden rope around a rose border.
A rope border in 26mm p.os.h. (pale beige), threaded through wrought iron fittings, was made to order for a customer who provided the wooden stakes and installed the rope along a 12 metre stepped garden path.