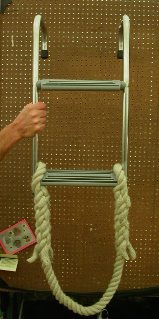 A Rope Extension
A flexible extra rope step was constructed as an on-site solution for a yachtsman at Dartmouth Regatta.
Two eye splices were tied around the bottom step of the ladder from a length of 30mm hempex.
Shown below, another type of splice - a tapered eye splice in 24mm 4-strand natural hemp, hard served with 3mm hemp cord.